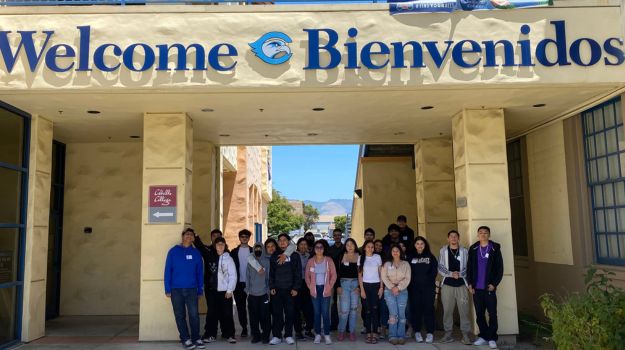 Paving the Way: JS & Cabrillo College 
Historically, higher education has not been designed with people of color in mind, and this disparity is evident when examining the educational achievements of Watsonville residents. In 2022, out of the 51,687 residents in Watsonville, only 21.57% held an associate's degree or higher. This statistic highlights the challenge faced by a significant portion of Watsonville's youth, who are either first-generation college students or will be and must navigate the complexities of higher education.
Compounding this challenge is the discouragement many youth face when considering community colleges due to lingering negative perceptions. In response to this, Jóvenes Sanos and Cabrillo College joined forces to destigmatize community college and raise awareness of the valuable resources offered by Cabrillo College among the youth in our community.
One significant initiative in this collaboration was the "Paving the Way" event, which took place in earlier this summer. During this event, 24 high school students had the unique opportunity to tour the Watsonville campus, engage in college trivia, learn about dual enrollment and the first-year college experience, listen to a panel of current Cabrillo College students, and participate in a captivating mock lecture on bureaucracy, using LEGO bricks as a creative teaching tool.
The primary goal of the event was to enhance youths' understanding of higher education resources and foster connections with Cabrillo College students and staff. Rachelle (18), a recent high school graduate, shared her insights, stating, "My experience at Paving the Way was insightful as it informed us of the various opportunities Cabrillo College provides. The event was inviting, allowing students to engage and learn about college life from the perspectives of Cabrillo College students. It also introduced us to programs, such as the Honors program, and essential information for seniors planning to apply for college this year."
Rachelle highlighted the unique activity led by Dr. Cervantes, the Cabrillo College dean, where students learned about the intricacies of bureaucracy through a LEGO-building exercise. The activity not only provided an enjoyable experience but also encouraged teamwork and the formation of connections among students.
In Rachelle's words, "I would encourage students to participate in Paving the Way as it provides a fun and educational experience."
Through initiatives like "Paving the Way," we are working towards breaking down barriers, empowering youth, and fostering a positive outlook on higher education. Together, we can create a more inclusive and supportive environment for all.
By Crystal Alvarez Castillo