FOR IMMEDIATE RELEASE: January 4, 2022, CAPITOLA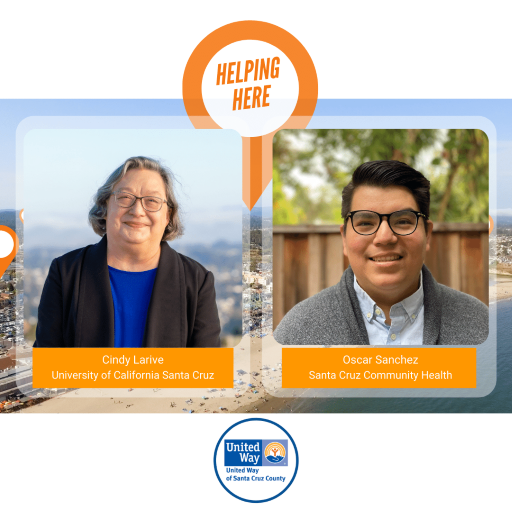 United Way of Santa Cruz County announced new additions to its board of directors. These business and community leaders bring their knowledge and talent along with a steadfast commitment to forwarding United Way's mission: Cindy Larive, Chancellor - University of California; and Oscar Sanchez, Quality Improvement Director – Santa Cruz Community Health. The new board members were approved by the United Way Board of Directors in November 2021 for a two-year term.
Larive joined UC Santa Cruz is 2019 and as Chancellor, she has prioritized improving graduation rates and eliminating graduation gaps for low-income and first-generation students, and for students from groups traditionally underrepresented in higher education. UC Santa Cruz was named the No. 3 public university in the nation for students focused on making an impact on the world in the Princeton Review's latest college rankings. UC Santa Cruz and United Way were recently awarded the WTG Foundation National Institutional Challenge Grant to support youth empowerment and leadership throughout Santa Cruz County.
Sanchez amplifies his passion for community to ensure marginalized communities have access to quality care as the Quality Improvement Director with Santa Cruz Community Health. As an innovative healthcare leader, he is reducing health disparities in communities of color by creating more culturally inclusive and appropriate systems of service. Sanchez is a first-generation college graduate from UC Santa Cruz and currently pursuing his Masters degree from California State University East Bay. Sanchez was appointed Chair of the United Way Emerging Leaders Circle.
"We are excited to add Cindy Larive and Oscar Sanchez to our United Way Board of Directors," said Keisha Browder, CEO of United Way. "We are incredibly fortunate that our United Way consistently attracts an extraordinary group of dedicated leaders who are committed to the building blocks of a quality life – education, economic mobility, health, and community engagement. We are grateful for their service as they lead us in creating a healthy, thriving, and safe Santa Cruz County for all".
2021-2022 United Way of Santa Cruz County Board of Directors
Beau Wilder, Poly
Bindi Gandhi, Sutter Health
Brian Spector, Spector Corbett Architects
Chris Maffia, Santa Cruz County Bank
Danielle Burke, Calera Wine Company
Dawn Mathes, Pebble Beach Company
DeAndre James, Community Health Trust of Pajaro Valley
Fernando Giraldo, Santa Cruz County Probation
Greg Lukina, David Lyng Real Estate
Joe Foster, Kaiser Permanente
Laurie Egan, Coastal Watershed Council
Lejla Bratovic, Conflict Resolution Center of Santa Cruz County
Martine Watkins, Santa Cruz County Office of Education
Matthew Wetstein, Cabrillo College
Michele Chaney, Community Leader
Robert Terrance, Community Leader
Stuart Mager, Graniterock
ABOUT UNITED WAY OF SANTA CRUZ COUNTY
Today's United Way of Santa Cruz County is committed to leading the fight for equity by removing barriers, closing gaps, and leveling the playing field for everyone who lives here. More than a fundraiser, we're hands-on, delivering programs and partnering with local organizations to improve lives in Santa Cruz County. Every day we are doing more for the Education, Health, and Financial Stability of people in our community. We are working to ensure our students succeed, our struggling families find financial security, and neighbors have access to health and wellness.
To learn more or discover how you can help, visit www.unitedwaysc.org
# # #