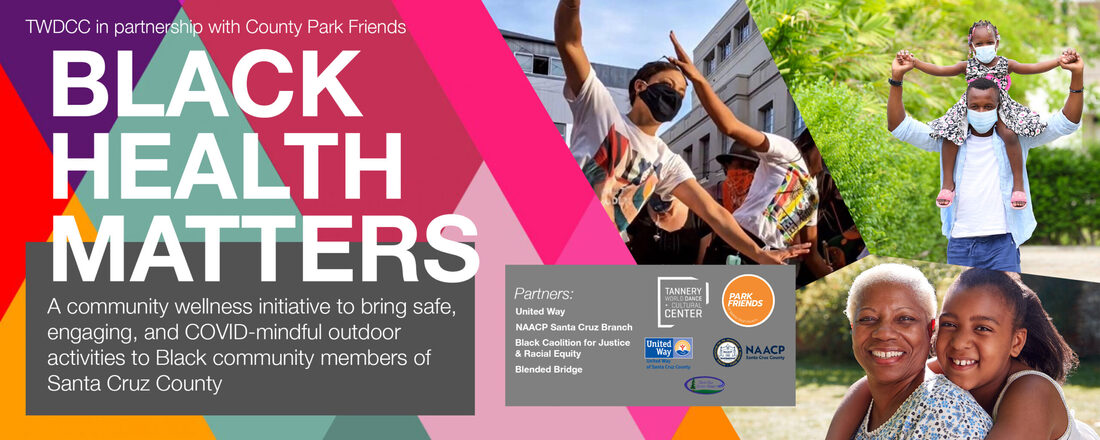 To celebrate Black History Month, we asked a few Black community leaders in Santa Cruz County to share what Black Health Matters means to them to bring the Black Health Initiative conversation to the table.
Esabella Bonner
Esabella Bonner, in all her glory.
This young female is a strong advocate for the Black community in Santa Cruz County, one she's been a part of for over the last 15 years.
Bella is an advisor for the Black Health Matters Initiative, a co-founder of Blended Bridge, a program committed to creating a safe and open community for all, and the founder of the Black Surf Club Santa Cruz (B.S.C.S.C.). An activist and a young professional, opening up Santa Cruz to the conversations that have long been avoided. 
As a speaker and leader for Santa Cruz's Black community, Bella could be found at the forefront of leading Santa Cruz's multiple peaceful protests that occurred in 2020. She has continued through multiple pathways of activism to promote a positive, healthy and safe living space for all individuals in the county, especially for those who experience and are affected by racial injustices.
DIALOGUE 
Question - Please share what Black Health Matters means to you? 
Esabella - "As a long-time community member of Santa Cruz, I have oftentimes longed for more welcoming outdoor community spaces. The Black Health Matters Initiative aims to drive awareness towards the varying social determinants of health that are having a disproportionate effect on our Black Community here in Santa Cruz. Some of these determinants include access to outdoor spaces, healthcare, cost of equipment, and even as far as feeling welcomed and included in these spaces. This initiative is special because it is being led by our community and aims to highlight and bring tangible and meaningful change to Black residents here in Santa Cruz County".
Question - How has the Black Health Matters initiative connected Black community members during a time of virtual spaces and isolation? 
Esabella - "The Black Health Matters Initiative has helped to connect our Black residents to two crucial necessities during this critical time: resources and community. The BHM Initiative both provides a safe space for folks to come together during this time of isolation and resources for our community members that need it the most. For me, the BHM Initiative has helped get me outdoors into spaces that I typically would have avoided and provided a sense of wellness and community that I had been longing for".
Question - If you've participated in Black Health Matters activities, what has been your favorite? Why? 
Esabella - "Virtual BBQ (yum!!!) and BSCSC Sunset Surf. The bbq was an amazing combination of Click and Mortar... Being able to enjoy the same food, from a distance, creating a sense of community building that I had been longing for".
Question - How have the pandemic and racial revolution impacted our local Black community? *
Esabella - "Both have continued to highlight our countries disparities and failures towards our Black community. All of the elements of injustice and have been exacerbated and brought to the forefront. People's lives are on the line".
Question - What are a few actions that can be done to ensure an equitable and inclusive Santa Cruz County for the Black community? 
Esabella - "Reparations, affordable Housing, truth-telling, amplifying (ALL) Black voices (not just palatable ones), funding for the BHM Initiative, funding for local Black artists and creators".
We are proud to highlight Esabella Bonner as a leader for the Black Health Matters Initiative, and for being a proud activist helping make Santa Cruz a safe, healthy, and just place for all to live. Thank you for your on-going devotion to empowering and giving voice to our Black community members in Santa Cruz County. Keep being the inspiration you are!